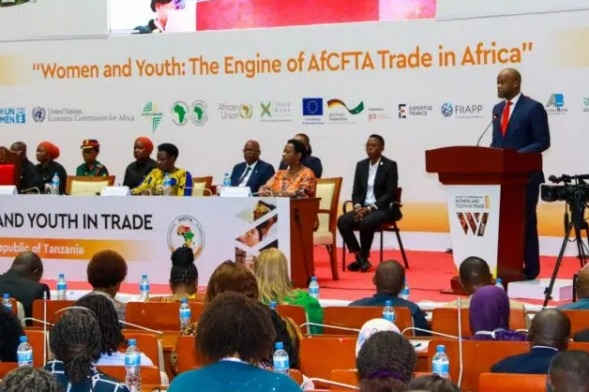 By OTIATO OPALI in Nairobi, Kenya |
China Daily Global |
Updated: 2022-09-15 09:56
As a trade conference focusing on women and youth drew to a close in Tanzania on Wednesday, African leaders have discussed recommendations to enhance the roles of women and youth in Africa's economic integration agenda.
Among the topics discussed during the African Continental Free Trade Area Conference on Women and Youth in Trade held in Dar es Salaam are the removal of all nontariff barriers, massive investment in human resources and easy access to loans to help increase participation of youth and women in intra-Africa trade.
Speaking at the opening of the conference on Monday, Tanzania's President Samia Suluhu Hassan said the creation of one African market will require eliminating unnecessary trade barriers.
"When our people approach regional or international markets, there are a number of nontariff barriers such as permits, licenses and so on. If the whole of Africa is working to remove the nontariff barriers, then business is going to grow," Hassan said.
"I was looking at figures for imports and exports within Africa, the figures are still very low. It is a shame that we trade more outside the continent than between ourselves."
The AfCFTA began officially in January last year and aims to bring continent-wide free trade to 1.3 billion people in a $3.4 trillion economic bloc.
Hassan said if Africa was to build a strong economy, it should learn from China, where it has made massive investments in youth through science and technology.
China's footsteps
"If we walk in China's footsteps and with abundant resources that Africa is blessed with, our youth will play a pivotal role in shaping our economies," she said.
Monique Nsanzabaganwa, deputy chairperson of the African Union Commission, expressed the need for having supportive policies in place that will bolster trade within Africa by tapping into the great human resource potential of innovative youth on the continent.
"We have a huge number of creative youth in Africa. If we allow them to come together, they will be a game changer. We need to set a stage for preparing youth and women to become the powerhouse of our economies," Nsanzabaganwa said.
Raphael Obonyo, a policy specialist based in Nairobi, said as the implementation of AfCFTA rolls out, Africa's youth must be motivated and involved in the process at every level.
"The youth's innovativeness has guaranteed them huge responsibility in driving other aspects of prosperity, which unfortunately has not included policymaking. The youth and women in Africa must understand what is on offer in the AfCFTA, and start to prepare the production lines of both goods and services to participate in these value chains," Obonyo said.
At the close of the conference, AfCFTA Secretary-General Wamkele Mene said that focus should be on exploring how Africa can ensure small and medium-sized enterprises led by women are at the center of benefits of the free trade agreement.
otiato@chinadaily.com.cn
>>> ad: Don't Miss Today's BEST Amazon Deals!
Originally Appeared Here