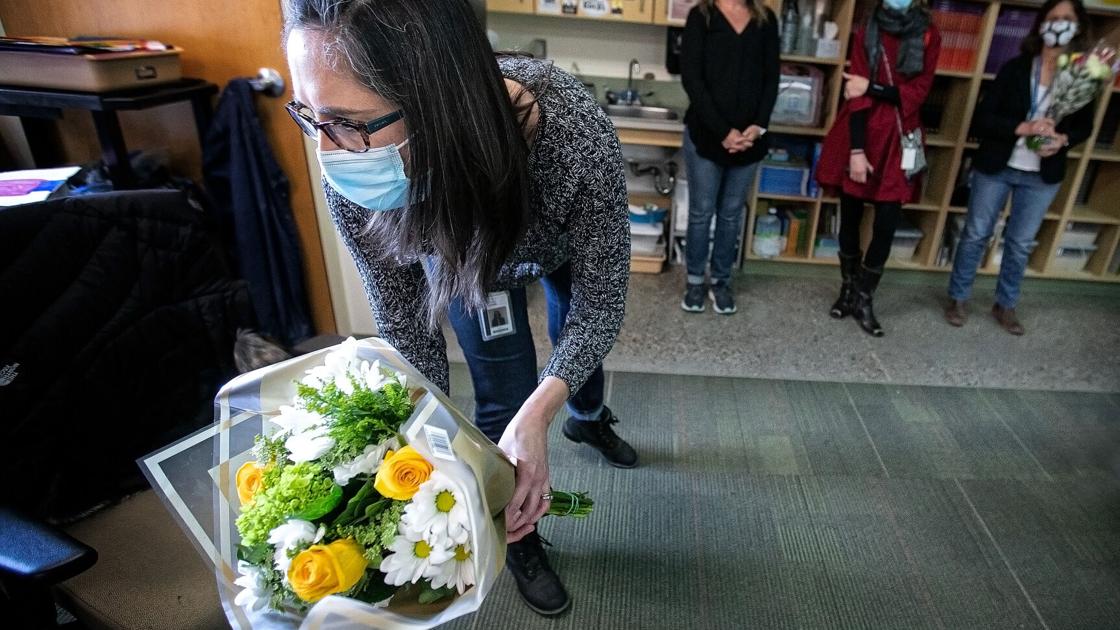 Hope Cahill received a Teachers Who Inspire award last week, but the honor didn't distract her from her weekend duties — grading papers.
"I'll have to write a lot of feedback," Cahill said with a laugh. "I can't help myself. I think of it as a conversation."
That kind of dedication — plus a drive to incorporate writing and communication skills into her classroom — have been Cahill's calling card at El Dorado Community School, where she is a sixth and seventh grade science teacher. But it's really been a habit throughout her career.
Before her sons were born, Cahill was a language arts teacher. She made the switch to science years ago after several years staying at home with her kids, and couldn't be more in love with the subject today.
"I think [science] engages kids in a way that I hadn't necessarily experienced with them when I was teaching language arts and creative writing as much," she said. "Which is not to badmouth those subjects, either. Science is so communication-based. … Those skills from teaching language arts and creative writing have really factored significantly into how I approach science assessment and assignments."
Cahill, who moved to New Mexico from upstate New York 25 years ago, has wanted to be a teacher since she was a child. She loves teaching all sciences to her students, but geology and earth science hold a special place in her heart, particularly in such a geologically diverse state. Cahill is an instructional leader at El Dorado, analyzing assessment data and formulating intervention groups of middle schoolers. 
"Teaching to me is not my profession — it's my vocation. I truly think it's a calling," she said. 
Cahill said she feels she acclimated pretty smoothly to online learning during the 2020-21 school year. A tech-savvy teacher, she also helped the district develop materials for sixth graders for the beginning of the school year. Still, it was difficult to tone down the hands-on nature of the sciences she teaches.
Cahill was rendered speechless Tuesday when she received the Teachers Who Inspire award. 
"I had no expectation of it, but I'm completely honored," she said, extending her thanks to colleagues and administrators, plus her husband and sons. "I work with a pretty amazing staff, in general, of really dedicated people. So that someone sees me this way means a lot."
For 28 years, Partners in Education has chosen district teachers for the award. Recipients are nominated by colleagues based on their "inspirational qualities in the classroom, among their colleagues and in the community."
Each teacher receives a $1,500 award. Alicia Ayala, Deborah Magaña and Sharieffa Wade-Burton of El Camino Real Academy; Barbara Teterycz of Capital High School; and Roxanne Starr-Trujillo of Atalaya Elementary were honored earlier this month.
It may not be the only award on the table for Cahill. She has been nominated by the state's selection committee for the Presidential Award for Excellence in Math and Science teaching, an extraordinarily high honor in the U.S.
But she says her greatest teaching accomplishment lies elsewhere: "The kids that I've hooked — who I see years later and are headed to college and considering a science degree," Cahill said. "Or who I see 20 years down the line and still have positive memories of their time in my classroom."