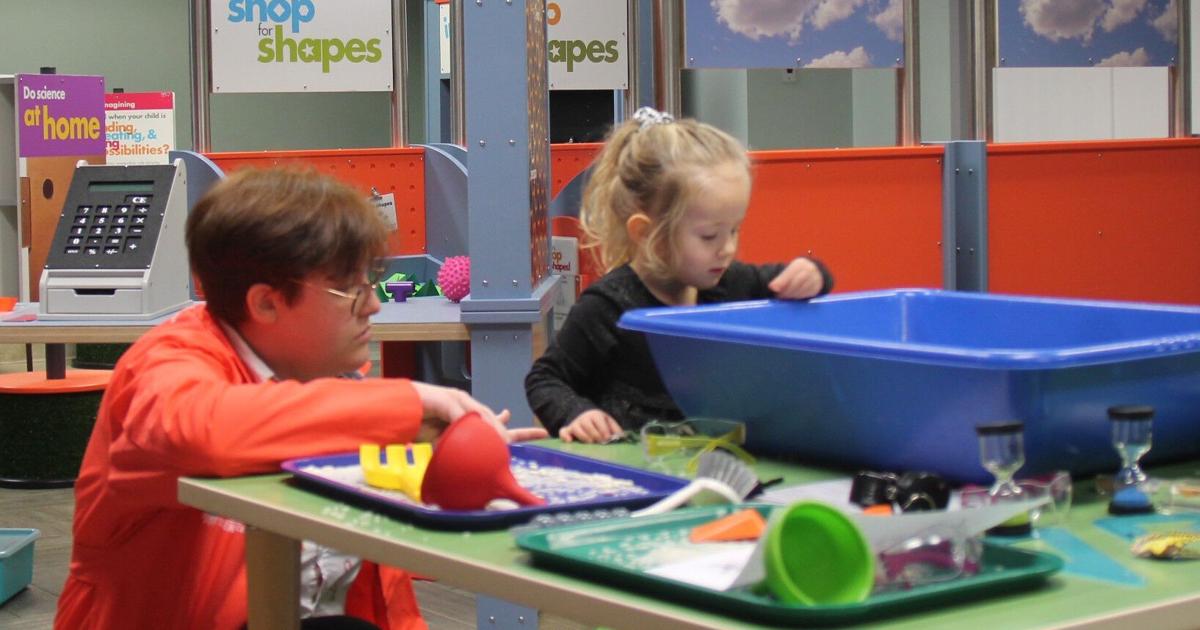 MAYFIELD — Kentucky Science Center brought its traveling miniature version of Science Play2Go to the Graves County Public Library through Science in Play2Go.
Deana Gschwind, Graves County Public Library director, said this exhibit was an opportunity for libraries to bring STEM education and early childhood education together as a way to get kids school ready.
Play2Go is designed for children ages eight and under, but all ages are encouraged to play. Science in Play2Go is built around the twin concepts of open-ended play and "loose parts." The materials involved in the games can be reimagined in countless ways, allowing children to naturally develop 21st century learning and STEAM skills.
Chris McEachron, manager of Early Childhood Education at the Kentucky Science Center, explained that the importance of this exhibit was not only the enjoyment of the kids, but modeling supportive play for all ages. "When I was a kid, STEM education in early childhood didn't exist. You had a bunch of engineers saying, 'you can't teach calculus to a four year old.' That's because we thought of science literacy as like increasingly complex scientific facts. For a three or four year old, that's not how their brains work," he said.
The elements of the exhibit in the library include engineering with big blocks in Build Your World, playing with the enormous light bright toy, visiting the Shapes and Stuff Store, and making insects at the Science Depot section. These games encourage open-ended thought, as well as collaboration and creativity, which provide a crucial foundation for future learning.
The games involved at the Science Play2Go are purposefully unstructured. "We wanted to make the games more open ended, so what we did is make a Shapes N' Stuff store where they can shop for shapes, colors, and textures, sizes, weights, these shapes can be anything the kids want them to be," McEachron said.
In the Shapes N Stuff Store, kids can shop for objects that can be anything and categories that can be anything. "We have red shapes here, kids can really learn about categories by having some examples. You'll notice that these categories aren't perfect. So what's going to happen when a kid finds this piece of wood? This kid might recategorize it with the red on it, it does belong here because there are other squares in this section. They can decide what that situation means to them," McEachron said.
In the Science Depot section, there's a table where kids can learn and create their own insects and butterflies. "We're encouraging kids to look at insects and think about them, measure them, count their legs, and you can invent your own insect over there," he said, pointing to a separate table. "Suddenly we can start asking the kids, 'what does your insect eat? How does it move?"
McEachron explained that they're trying to use this exhibit as a way for kids to transition into an idea of process. "So instead of thinking of science as knowing facts, I want the kids to think of science as making predictions about the world. I want technology to be anything man made even if it's not real, even if it doesn't exist, like a spaceship out of legos," McEachron said.
"I can have all the content in the world in my pocket, but I need to know how to think about it, I need to know how to search for it, how to process it. When these kids grow up, it's going to be vastly different from what I could even imagine, putting information together in interesting ways and coming up with solutions to problems that I can't even conceive of," McEachron said.
Thanks to the support of the Kentucky Department for Libraries and Archives (KDLA), the Play2Go exhibit is provided free of charge to communities and participating libraries.
According to McEachron, the surveys taken showed thousands of adults were able to see their kids play in a supportive way, "The surveys showed that parents are understanding that they don't necessarily need to be a calculus genius to help their child understand math."
The science involved in Play2Go's has been shown through ongoing surveys which say that an average of 89% of parents and caregivers reported they are, "feeling more confident in my ability to nurture my child's science learning" after visiting Science in Play2Go. Ninety four present of the adults believed that the science in Play2Go helps them "think of new ways to encourage learning at home."
In the first six years of its launch, Science in Play2Go welcomed over 187,000 visitors with residencies in 20 Kentucky counties. At the start of the COVID-19 pandemic, Science in Play2Go transitioned into Kentucky malls, with locations in Louisville's Mall St. Matthews and Bowling Green's Greenwood Mall. The traveling exhibit returned to public libraries in early 2022. Graves County is the exhibit's first location of 2023, with additional residencies planned through 2024.
The traveling exhibit is open to the community during normal library hours. Field trips and group visits to Science in Play2Go are encouraged; groups, including schools and local community centers, may contact the library directly to arrange a visit. Science in Play2Go is designed to serve as a resource to the community, providing at-home activities for parents and caregivers to do science with children and tools to help facilitate early-childhood learning.
Graves County Public Library is located at 601 N. 17th Street in Mayfield. The library's Science in Play2Go experience is available to the public from Saturday, January 14 through Saturday, April 1. For more information, visit the Graves County Public Library website at gravescountypubliclibrary.org or call 270-247-2911 ext.1.
McEachron said, "What we're trying to promote is that kids are the discoverers of knowledge, not just the recipients. So they can explore these concepts and check out some of these exhibits in really cool and interesting ways and feel empowered to pursue their own interests."
Kentucky Science Center is a nonprofit educational institution that encourages people of all ages to study science in engaging, educational, and entertaining ways to inspire a lifetime of learning. To see more about the Kentucky Science Center visit kysciencecenter.org.
>>> ad: Don't Miss Today's BEST Amazon Deals!
Originally Appeared Here