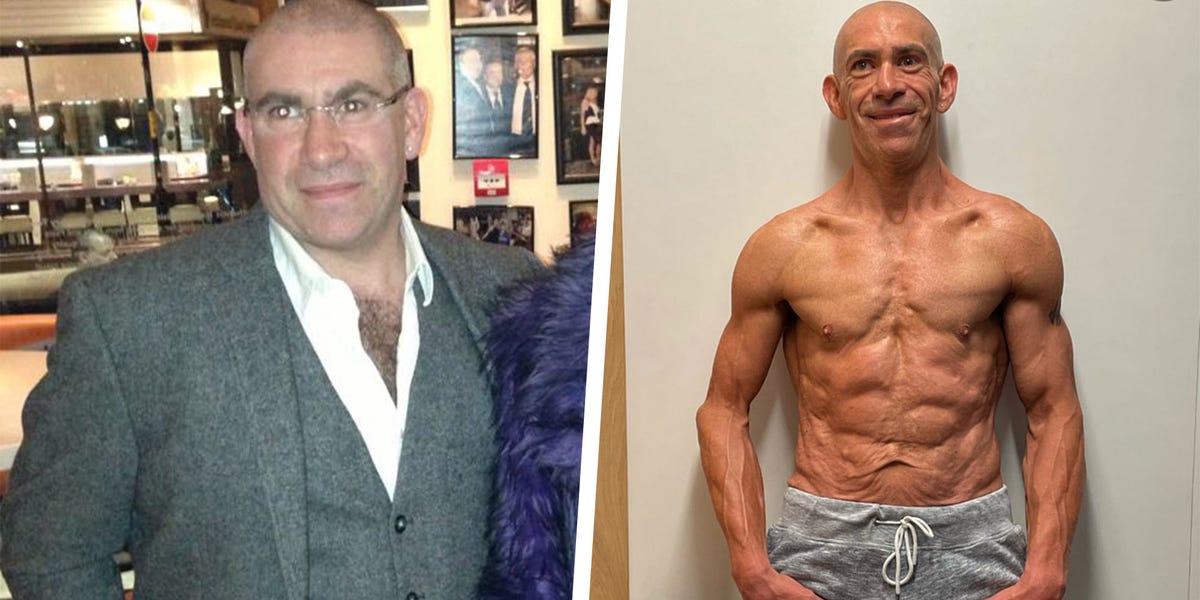 After topping the scales at 15 stone (95kg), Darren Mason, 50, from Whitefield, Manchester, deployed smart dietary decisions, challenging weights sessions and tough boxing workouts to whittle his body fat percentage down to nine per cent and reveal his abs for the first time ever.
Despite having trained since his teen years – "mainly boxing with a little weights thrown in" – weight-gain always caught up with him in the end. "I have always struggled with my weight, constantly comfort-eating on takeaways and chocolate," Mason, a director of 20 vape shops across England and Scotland, explains. "My weight has yo-yoed."
From the age of 40 onwards, the father-of-four found it increasingly difficult to curtail the fluctuating figures on the scales. "One of my biggest issues was consistency," he explains. "I would stick to a plan for a while but then would go into another binge, it was always 'will start again on Monday!'" (continued below)
After his brother completed a 12-week transformation at Ultimate Performance Manchester – with "incredible" results – Mason was inspired to follow suit. Nearing 50, he felt it was his "last chance to potentially see a six-pack".
"I was at the stage where I had nothing to lose," he continues. "I've also got four young sons, and I want to be healthy enough to play with them as well as be a role model – if I can achieve this, so can anyone. I knew if I carried on as I was, my weight would just go up and I would settle for average. I wanted more than that."
With expertise and coaching from his trainer Troy, Mason totally overhauled his diet, which he says is central to his transformation results. "We went from approximately 3,000 calories per day to around 1,500 calories, which were spaced over four or five meals per day," he explains. "This gradually increased as the process went on."
Mason trained two or three times per week, "purely on weights, including lots of legs, which I hated at the time," he explains. "I also did boxing two or three times per week to get the cardio aspect in and build my fitness up." Within four weeks, he could see that his hard work was visibly paying off. "After eight weeks, other people would comment on how much I had slimmed down," Mason says. "By week 12, I saw my abs for the first time ever!"
Not only did Mason slim down to 63kg, but he gained an awareness of how to fuel and nourish his body. "Planning my food has been key," he says. "Having the meals prepared and ready to eat has saved me from binging when hungry, I'm also accountable to my trainer, so I know he's on it if I were to cheat."
It hasn't all been smooth sailing, of course. "I won't lie, there were times when I nearly quit, my legs ached and I was hungry – however something inside would not let me give up," Mason says. "I can never go back to my old ways. I still enjoy a takeaway, but as a planned cheat meal which allows me to continue making gains. The next goal is to build some more muscle and maintain the ripped look that I worked so hard for."
Alongside his boxing sessions, Mason continues to train with Troy three times per week, and makes time for recovery in a local cryotherapy chamber, "which given me massive gains," he says. "This is for three minutes at around minus 130 degrees, which is really cold but makes you feel great." Mason also a new training partner: his wife, Sarah. "She is doing exceptionally well on her journey," he says. "We encourage each other."
"This is now a way of life," Mason continues. "I can't see me ever leaving Ultimate Performance, it's been life-changing. If anyone is thinking about doing this I would say go for it – if you want it badly enough, the results are guaranteed to happen. No one said it would be easy but the results are worth it."
This content is created and maintained by a third party, and imported onto this page to help users provide their email addresses. You may be able to find more information about this and similar content at piano.io
>>> ad: Don't Miss Today's BEST Amazon Deals!
Originally Appeared Here