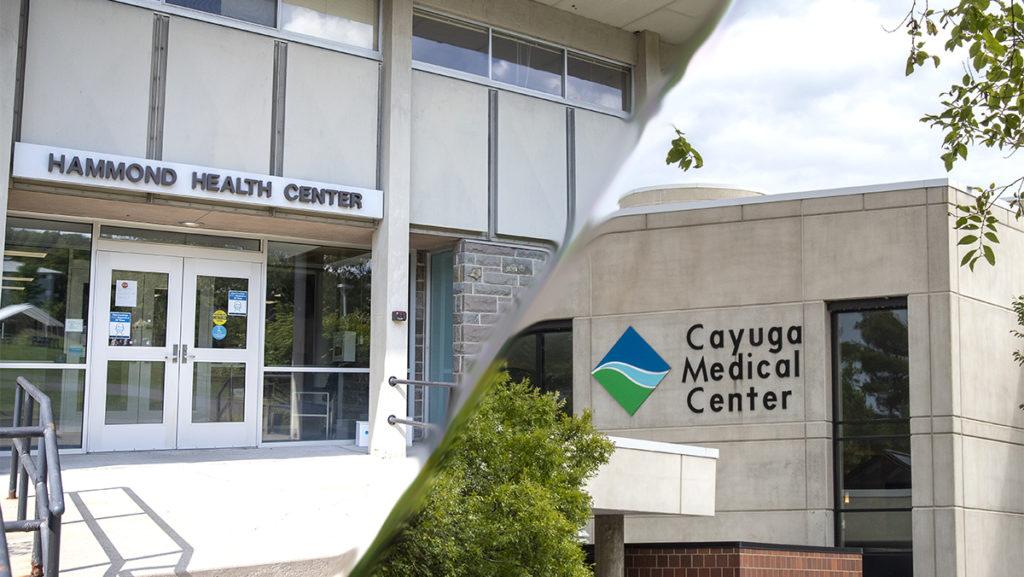 Ithaca College became a part of the Cayuga Health System's (CHS) network Aug. 15, with the hopes to create a more sustainable student health center. This enhancement comes with a price: students now need to provide an insurance card and may need to pay a copay in order to use the services within the health center. 
"It's what people are used to doing everywhere else, but it's a big shift for our students on our campus who are not used to having to do that in the past," Bonnie Prunty, vice president of Student Affairs and Campus Life, said.
The college announced the merge to the campus community July 14 through an email. Prunty said the college has been discussing partnerships with off-campus entities since creating the strategic plan.
The Ithaca Forever five-year strategic plan was released in June 2019 where the college outlined its goals to provide an education experience that is accessible, affordable and responsive. Within the 36-page document, the desire to build off-campus relationships was highlighted. 
Prior to the merge, students were not charged a fee to visit the Hammond Health Center or for any labs that were done at the center and did not have to present their insurance card while at the center. Students were only charged through their insurance if they were referred off-campus for care or filled prescriptions off-campus.
The college requires each student to be insured, whether it is through the college or an alternate insurance. The cost of one year of insurance through University Health Plans, the college's plan, is $2,713. Students have until Sept. 15 to waive the student health insurance that is otherwise automatically billed to them by the college.
"The challenge is that there may be students who waive out with their parents' insurance, who over time, find out, 'you know what, my parents have a high–deductible plan, and so this is costing more than I expected it to cost,'" Prunty said.
Prunty said the student health insurance provided by the college may become more cost-effective to some students. 
"It's going to be very individual insurance dependent," Prunty said. "So the really challenging thing is for a student to understand how their insurance is going to work in the health center. … They need to find out if their insurance considers the health center to be in-network or out-of-network. They need to find out what's the deductible under their plan, what are the copayments under their plan."
Junior Zola Campbell said she has used the Hammond Health Center a number of times.
"It's nice that they're trying to make it better and have a lot more resources, but I use it a lot for little things, like if I have a bad cold," Campbell said. "[Right now] it's easy to call and I don't think it's something I want to be a big thing, like, 'oh, I'm going to the doctors and I have to do a copay.'"
CHS has collaborated with the college prior to this merger, working with the college's health sciences, including the physical therapy program, to enhance students' learning. CHS also helped the college reopen during the COVID-19 pandemic, according to the email announcing the merge. 
CHS runs the Cayuga Medical Center in Ithaca and Schuyler Hospital in Montour Falls. CHS also runs a multispecialty group, Cayuga Medical Associates (CMA). CMA has around 24 specialties and their competency is in outpatient medical practices. 
Timothy Downs, chief financial officer and the vice president for Finance Administration, helped manage the merger between the college and CHS. Downs says his work with the merger is not over and the two organizations continue to communicate with each other to create a smooth transition.
"We still check in, it's still very important for us [to check in] because there are bumps," Downs said. "It's bringing a community health partner into a college health space, and it's a fantastic partnership, but it takes care and nurturing to make sure it all works." 
Jeffrey Penoyer '08, chief operating officer of CMA, said CMA is focused on the quality of care in the health center.
"The idea was to kind of bring that skill set to the school to help run the Student Health Center," Penoyer said. "We're focused on … bringing and shoring up their behavioral health programs in the health center and helping restore the normal hours of the health center."
Prunty said that three behavioral health specialists who are employed through Cayuga Health are now working in the health center. She said these specialists will work with students who are struggling with things like stress and anxiety and will teach them strategies to deal with their mental health.
"Maybe a student has insomnia, as an example," Prunty said. "They can't sleep, and in working with a physician they can't find a physical reason why the student can't sleep. They can do a warm handoff to these behavioral health folks who are now working in the health center. 
According to the email announcing the merger, the college's Center for Counseling and Psychological Services will continue and it is not a part of CHS. 
Penoyer said that they have created a category called "sensitive visits," like STI testing and behavioral health visits, where students will not be billed. 
"The parents wouldn't be notified via normal means through insurance for those types of visits because we recognize that those are personal and sensitive visits to the student population," Penoyer said. "We wanted to ensure that students still felt comfortable coming to the health center for those things. And that's fundamentally different than how we treat the regular population that we serve."
Prunty said one of the main reasons the college decided to partner with CHS is because the college's leadership wants to be able to sustain a high quality health care system for the college's students. She said it has been a challenge for the college to do this previously because of two national issues: the rising cost of health care and staffing shortages in the health care industry. 
According to the Centers for Medicare and Medicaid Services, national health spending is expected to grow at an average annual rate of 5.4% from 2019–28. It is projected that in 2028, national health spending will reach $6.2 trillion. 
Through this collaboration, the Hammond Health Center will have extended hours compared to previous semesters and a larger range of services, including mental health. Last year, Hammond's hours were reduced to business days. Now, the health center will be open 8 a.m. to 7 p.m. on Mondays-Thursdays; 8 a.m. to 5 p.m. on Fridays; and 10 a.m. to 2 p.m. on Saturdays. Long wait times at the Hammond Health Center had also become a common issue throughout the years. 
Junior Alexa Tamis said that in the past she has utilized the local urgent care, where she paid a copay, rather than going to the Hammond Health Center, because she believed they could give her a more accurate diagnosis. Tamis said she believes the price of a potential copay is worth a comprehensive healthcare system on campus that is accessible to the college's students. 
According to debt.org, a copay for a routine doctor's visit typically costs $15–25; $30–50 for a specialist; and $75–100 for treatment in an emergency room.
"COVID is still an active thing at the moment and college kids get sick all the time," Tamis said. "To have [an extensive health center] on campus is really important. And kids are going to have to worry less about finding a way to go to an urgent care or a doctor."
Penoyer said he is excited to work with the leadership at the college.
"It's nice to be back on campus and just being able to give back," Penoyer said. "I feel really excited about the partnership. Our goal is to do right by the student population, and we're excited to do that."
>>> ad: Don't Miss Today's BEST Amazon Deals!
Originally Appeared Here