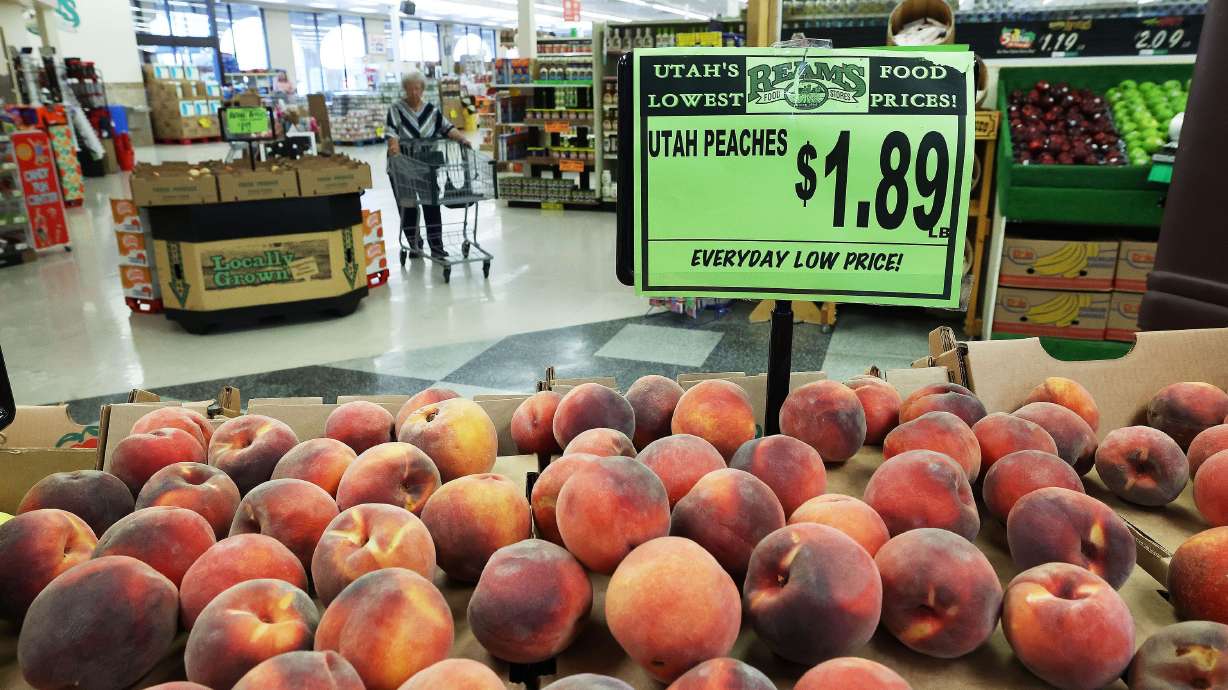 A shopper looks for produce at Reams Food Store in Sandy on Sept. 23, 2022. (Jeffrey D. Allred, Deseret News)
Estimated read time: 4-5 minutes
SALT LAKE CITY — U.S. inflation marked six straight months of declines in December with the overall rate coming in at 6.5% over the same time last year and down from 7.1% in November, according to a new federal report.
The Labor Department released its December Consumer Price Index Summary on Thursday, noting the 12-month inflation rate came in at its lowest mark since October 2021 and average prices on goods and services dropped .1% from November to December, the first monthly downtick since May 2020.
Big drops in gasoline prices helped drive the decrease even as the average costs for food and shelter bumped up from December. The average cost of gas across the country in December was down 9.4% from November while groceries rose .3% and shelter costs moved up .8%. Over the same time last year, groceries prices are up 10.4% and the cost of shelter was 7.5% over December 2021.
Utah is among Mountain West states that experienced nation-leading regional inflation rates for much of 2022 and that distinction continued in December with inflation running at 7.4% for the area, the highest in the country.
Will the Fed chill out on rate hikes with inflation trending down?
The Federal Reserve has pitched a yearlong battle against the elevated prices of goods and services, instituting the most aggressive series of rate hikes in decades in an attempt to cool off the red-hot economy.
The rate hikes aim to raise the cost of debt for businesses and consumers which should, theoretically, reduce the amount of spending and overall economic activity, a shift in dynamics that typically brings inflation rates down.
But consumer spending has remained robust and the U.S. labor market has continued to run red hot, with unfilled jobs far outnumbering the number of available workers to fill them.
The Fed's board is expected to bump its benchmark overnight lending rate again when it concludes its next meeting on Feb. 1. But if inflation continues to ease, the monetary policy body could suspend its rate hikes after that, some economists say, or implement just one additional hike in March and then pause.
According to the Associated Press, futures prices show that investors expect the Fed to then cut rates by year's end, although minutes from its December meeting noted that none of the 19 policymakers foresee any rate cuts this year.
"If actual inflation is trending downward, the Fed can take more comfort that it's landed the economy in a good place," Daleep Singh, chief global economist at PGIM Fixed Income and a former Fed staffer, told AP. Singh expects the Fed to raise its benchmark rate by a quarter-point at each of its next two meetings and then stop with its key rate just below 5%.
What's in store for Utah's economy in 2023?
A report from the Utah Economic Council released Thursday predicted Utah's economy could go one of three ways in the year ahead — continue moderate GDP growth of 2% to 4%, see growth slow to 0% to 2% or slip into a moderate recession where the state's GDP could contract by around negative 1%.
So, why did the economic council, a collaboration of the University of Utah David Eccles School of Business and the Governor's Office of Planning and Budget, present a grab-bag projection for the coming year?
Current economic conditions have been roiled thanks to a set of extraordinary functional and financial circumstances and, thus, have never had to be figured into economic prognostications. A global public health crisis, subsequent widespread disruptions to product supply chains, seismic shifts in consumer behavior and government-backed cash inputs such as individual stimulus checks and massive business subsidies have blown up the previous models when it comes to guessing what's coming next.
"The post-pandemic economy has altered many traditional economic relationships," the report reads. "These economic transformations make accurate predictions challenging because it's unclear if or when old patterns will return, or if new arrangements will chart a different economic course."
The main takeaway from the report, which was presented to Utah Gov. Spencer Cox at an economic summit on Thursday, was a simple message that applies to budget decision-makers at every level — be ready for anything.
×
Most recent News stories
Art Raymond
More stories you may be interested in
>>> ad: Don't Miss Today's BEST Amazon Deals!
Originally Appeared Here