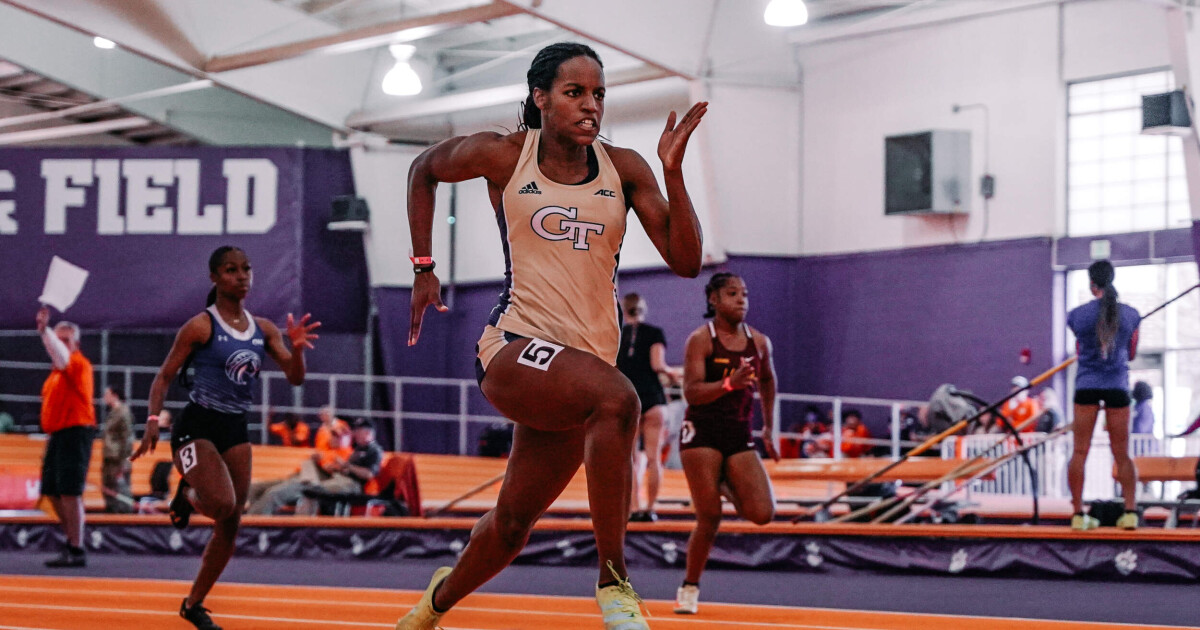 THE FLATS – The Georgia Tech track and field teams started the 2022-23 indoor season with several first place and top three performances on Friday at the Clemson Opener.
Tech swept the men's 600m with Jameson Miller running a first place and personal-best time of 1:19.62. Parker Buchheit placed second with a personal-best time of 1:20.45 and Jeremiah LaDuca came in third with a time of 1:20.47.
In the women's high jump, Shanty Papakosta won the event with a mark of 1.78 meters (5-10). Carla du Plessis placed second (1.71m/5-7.25) and Camille Trotman finished in fourth place (1.65m/5-5). On the men's side, Omar Arnaout placed third (2.00m/6-6.75) and McKinley Thompson tied for fourth place with a mark of 1.95 meters (6-4.75).
Tech earned second-place finishes in the men's triple jump and women's long jump. John Watkins recorded a second-place mark of 14.94 meters (49-0.25) in the triple jump. Mikayla Williams took home second in the long jump with a career-best mark of 5.80 meters (19-0.5).
Sheleah Harris earned two top three finishes in the women's 200m and 60-meter dash. Harris won the 200m with a personal-best time of 24.22 and placed second in the 60-meter finals with another career-best time of 7.33. Chloe Davis also competed in the women's 60-meter dash and finished fourth in the event (7.49, PB).
In the women's 400m, Lydia Troupe placed second with a time of 56.90 and Ilene Soleyn finished fourth with a time of 57.46.
Both Taylor Grimes and Riley Perlakowski earned third-place finishes in their respective events. Grimes placed third with a time of 8.56 in the finals of the women's 60-meter hurdles. In the women's 1000 meters, Perlakowski ran a third-place time of 2:53.25.
Competitive Drive Initiative
In a unified endeavor, Georgia Tech, the Georgia Tech Foundation, Georgia Tech athletics and the Alexander-Tharpe Fund have come together to accelerate funding for student-athlete scholarships with the launch of the Competitive Drive Initiative. The initiative kicks off with the Accelerate GT Match Program, where any new gift to the A-T Fund's Athletic Scholarship Fund made through Dec. 31 will be matched dollar-for-dollar by the Georgia Tech Foundation, up to $2.5 million. Should Accelerate GT reach its $2.5 million fundraising goal, the matching gift would result in a $5 million impact for Georgia Tech athletics. To learn more and to contribute online, visit atfund.org/accelerate.
For the latest information on the Georgia Tech Yellow Jackets, follow us on Instagram (@GT_trackNfield), Twitter (@GT_trackNfield), Facebook (Georgia Tech Track & Field/Cross Country) or visit us at www.ramblinwreck.com.
>>> ad: Don't Miss Today's BEST Amazon Deals!
Originally Appeared Here