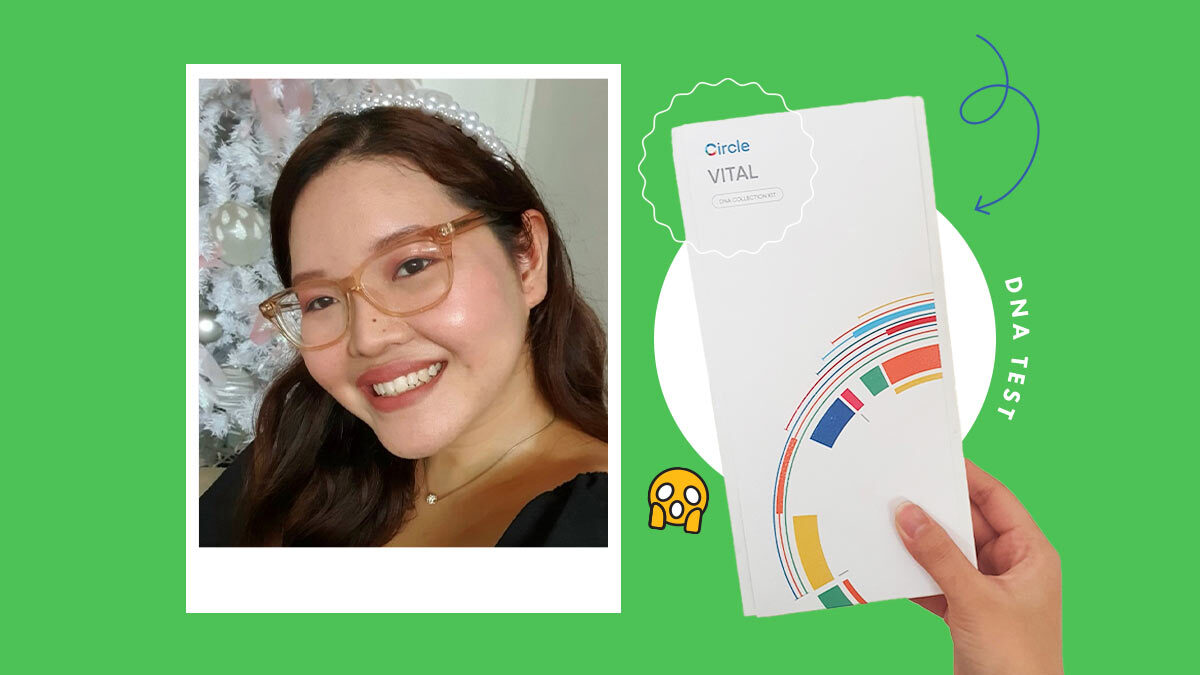 When people talk about DNA tests, they're usually in the contexts of paternity suits and ancestry reports. So when I first heard about CircleDNA, I got curious because they claim to be able to share valuable insights and offer concrete recommendations on your health, nutrition, and other aspects of your life based on your genes.
Full disclosure: I'm not the type of person who prioritizes their health. Exercise is the bane of my existence, and I don't really control what I eat. Learning about CircleDNA and what they can do for me, however, got me thinking about what I should be doing in terms of my health: Should I do something about my quarantine weight gain? How do I get rid of it? Should I go on a diet again? What should (or shouldn't) I eat?
After thinking about it some more, I decided to go for it because I saw the opportunity to learn more about my body and how to take care of it. Also, I figured I'd be more inclined to take action if the recommendations are personalized and if I know that these will be based on my body.
Continue reading below ↓
What is CircleDNA?
CircleDNA is a Hong Kong-based company that claims to offer ~the world's most comprehensive DNA test~. They have a range of kits, each with a different set of reports based on what types of insights you're looking for:
Continue reading below ↓
Recommended Videos
Vital: diet and nutrition, sports and fitness, lifestyle

Health: cancer risk, health risk and disease, dementia and brain health

Family Planning: carrier status across 163 hereditary conditions

Premium: all of the above
I took a quick test on their website to help me decide on which kit to get. I was recommended the Vital DNA Test, which has 125 reports on diet, nutrition, sports & fitness, ancestry, and more. A one-on-one consultation with a health coach is also part of the package. Because I took the test, I was offered a 25 percent discount, so I was able to purchase the kit at P7,395 (originally P9,860).
CircleDNA: The process
Upon purchasing my kit, I was asked to download the CircleDNA app. This is where all kits are registered and also where your results will appear once available.
Continue reading below ↓
My package arrived three days after ordering. Inside the box is the DNA collection kit, which includes a swab you're supposed to rub against the insides of your cheeks and a tube that will store your DNA sample. The kit had very detailed instructions so I didn't have a hard time throughout the whole process, from swabbing to storage. I then had to put the tube back in the kit and into the FedEx return pouch that was included in the package.
The box also comes with a "Circle of Change" bracelet, which commemorates the start of my journey to improving and optimizing my health. COURTESY OF PAULINA PARAS
Continue reading below ↓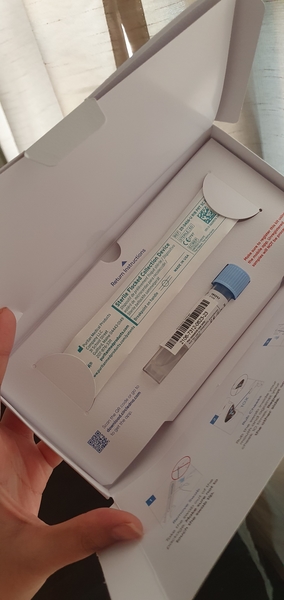 The DNA collection kit includes a swab, tube with DNA preservation liquid, and detailed instructions. COURTESY OF PAULINA PARAS
I then dropped off my package at the nearest 2GO branch (they're the local partner of FedEx) to have my DNA sample sent back to Hong Kong. From there, I got regular updates on my CircleDNA app to see the progress.
Continue reading below ↓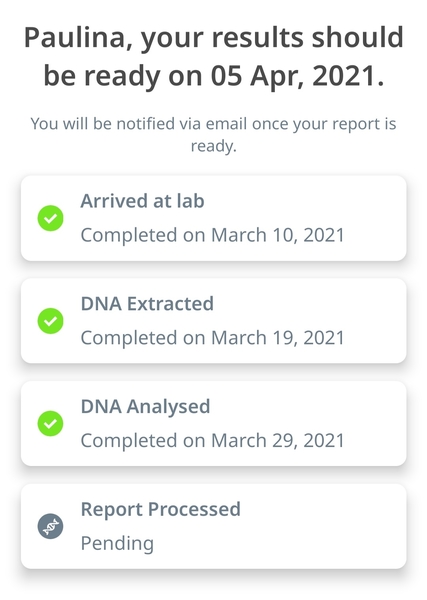 You can see status updates on the CircleDNA app. COURTESY OF PAULINA PARAS
What I learned from my CircleDNA test
My results were available a little less than a month from the time I sent out my package. Apart from the detailed insights and recommendations found on the CircleDNA app, they also sent me a PDF via email that shows a summary of all the reports. The results are divided into key categories: Diet & Lifestyle, Talents & Sports Performance, Discover Your Origins, and Explore Your Genetic Blueprint.
Continue reading below ↓
In terms of diet, the overall recommendation was to have a balanced diet (the other options are low carb, low fat, and Mediterranean). They also suggested I eat more cruciferous vegetables like bok choy, broccoli, and radish. I also have a normal metabolic response, but at the same time I have lower appetite control. I've started actively incorporating leafy greens into my meals, and after eating I really pause to wait for the busog to kick in to prevent overeating.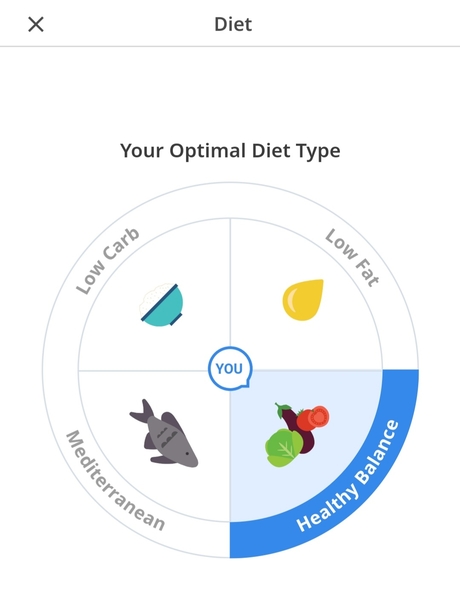 According to my DNA, my optimal diet type is a healthy balance. COURTESY OF PAULINA PARAS
Continue reading below ↓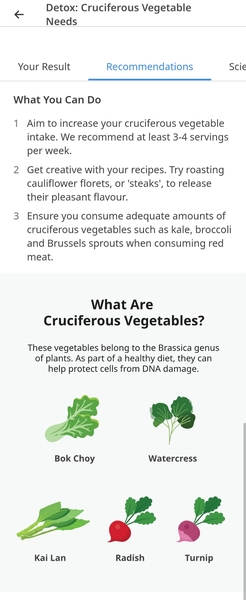 Apart from the actual results, each report also includes recommendations on how to adjust your lifestyle as well as key notes related to your results. COURTESY OF PAULINA PARAS
I also found out that my body has normal needs for most nutrients except calcium, iodine, and omega-3 (ALA), which my body needs more of. I already started taking multivitamins religiously after a recent illness, so after seeing my results I purchased supplements for the nutrients I have higher needs for.
Continue reading below ↓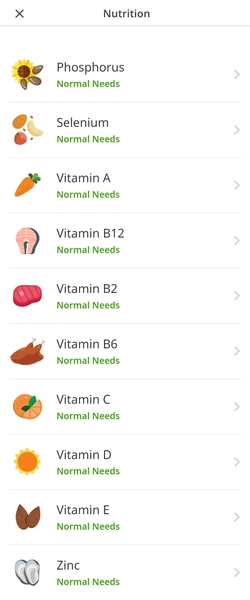 The nutrition reports told me which specific nutrients I need more of. COURTESY OF PAULINA PARAS
The category I was happiest—but also most frustrated—with was skin. Based on my results, I'd probably have *amazing* skin if it weren't for my predisposition to acne. My skin age is younger than I actually am, plus I have lower risk of glycation (which accelerates skin aging), wrinkle formation, photo aging, hyperpigmentation, and sunburn. I checked my current routine and noticed that most of my products now target signs of aging, so I've slowly been switching some products out to include those with anti-acne ingredients like niacinamide, BHA, and tea tree oil.
Continue reading below ↓

Apart from sharing more about acne risk, the report also includes specific skincare ingredients to try: retinoids, AHA, BHA, niacinamide, and benzoyl peroxide. COURTESY OF PAULINA PARAS
I was also surprised to find out that in terms of fitness, my body is likely to have a high response to strength-based activities. The results suggested that I go for sports like CrossFit and badminton, and to focus on muscle development in my workouts. Since I don't really exercise, I'm excited to do the one-on-one session with a CircleDNA coach to get a few suggestions on my routine!
Continue reading below ↓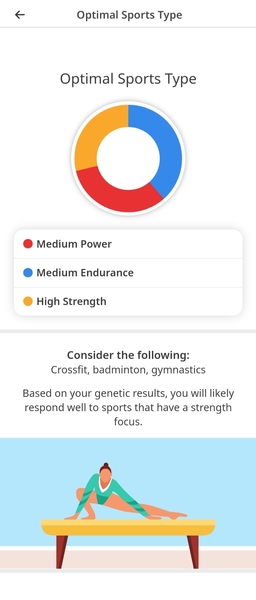 Based on my genes, I have a high strength profile and medium power and endurance capacities. COURTESY OF PAULINA PARAS
One of the more interesting reports was the quick one for ancestry. According to this, my ancestral composition is mostly Chinese, followed by Vietnamese (where did THAT come from?!). I and both sides of my family have always identified as Filipino, so this initially came as a shocker. CircleDNA, however, explained that the composition is based on hundreds to thousands of generations, meaning my ancestors probably didn't start out in the Philippines but migrated here a long, long time ago. 
Continue reading below ↓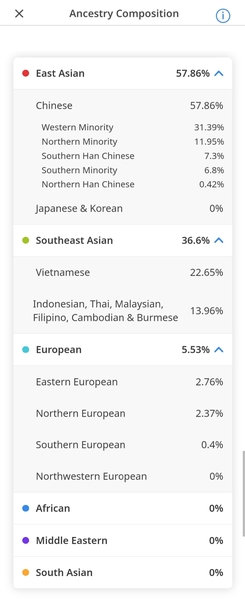 I am less than 14 percent Filipino, according to my ancestry composition. COURTESY OF PAULINA PARAS
The results also include insights on a few intangibles like success, personality, and behavior traits. From this, I found out that I have a higher language ability (meaning I may be able to learn other languages faster) and EQ. I'm also *gifted* in music and dancing according to my genes, but I'd say not so much on the dancing (LOL!). The Extraversion report also said I'm likely reserved or reflective, which is aligned with my INFP personality type.
Continue reading below ↓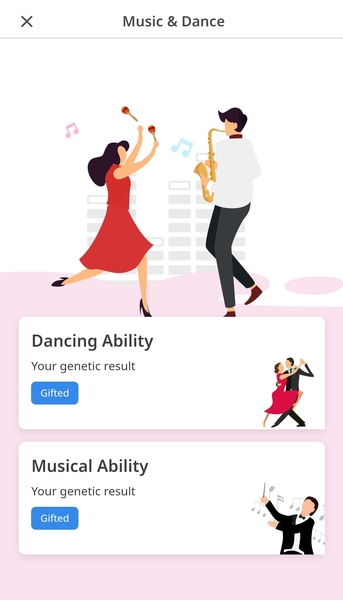 For both musical and dancing ability, they tested the vasopressin receptor (or AVPR1A), which is associated with how we communicate and behave. COURTESY OF PAULINA PARAS
Apart from the ones mentioned above, there are also reports for well-being, stress and sleep, pollution, physical traits, gender traits, and more! 
The verdict
Overall, I'm really happy with my experience with CircleDNA. It was fun and interesting to learn more about myself in ways I couldn't have ever imagined! I also appreciated the detailed insights and actionable tips, like I didn't have to leave the app to Google anything.
Continue reading below ↓
The results shouldn't be taken as fact since there are a lot of other factors that contribute to the IRL situation, such as your environment and current lifestyle. 
One thing to keep in mind though is that these reports are based purely on your DNA. The results shouldn't be taken as fact since there are a lot of other factors that contribute to the IRL situation, such as your environment and current lifestyle. 
That said, I would recommend CircleDNA Vital to those who are curious about what their genes can tell them about themselves. You may also want to check this out if you're looking to improve your lifestyle. I've started implementing a few changes to mine, and I really look forward to seeing what happens next!
***
Cosmopolitan Philippines is now on Quento! Click here (Android, iOS, desktop) to download the app and enjoy more articles and videos from Cosmo and your favorite websites!
Follow Paulina on Instagram.