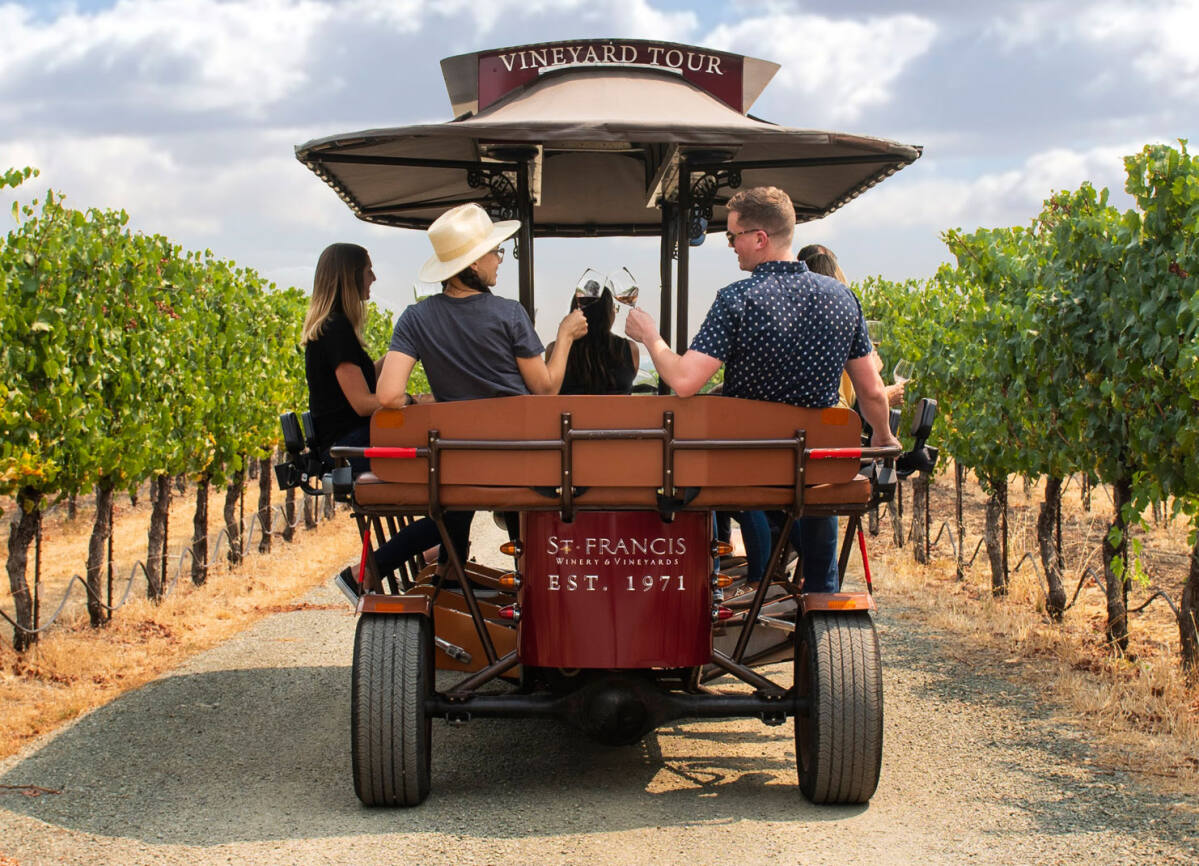 New skin care clinic: A new medical aesthetics clinic, Sonoma MD Aesthetics and Wellness, formerly known as Derma IPL Therapeutics, has opened in Sonoma. Headed by Dr. Kyle Holmes and Gina Knudsen, the clinic offers laser photo-therapy treatments, vampire facials, hair restoration, plasma pen/fibroblasting, IV therapy, botox and more. Holmes is a board-certified physician, with training in laser and medical cosmetics therapy. Knudsen-Holmes is a certified physician assistant with a master's degree in physician assistant studies and clinical nutrition. The clinic is located at 181 Andriuex St., suite 113 and is open Monday through Friday 9 a.m. to 5 p.m. and to noon on Saturdays. A grand opening with an open house from 9 a.m. to 7 p.m. is scheduled for June 3. SonomaMD.com.
Swapping spots: Sotheby's has moved out and Engel & Völkers is moving in to the prominent Plaza storefront at the entrance to Vine Alley. Engel & Völkers specializes in "premium residential property, commercial real estate, yachts and aircrafts." The company currently operates 800 locations in more than 30 countries on five continents. This is their first office in Sonoma. engelvoelkers.com.
Honors: Friedman's Home Improvement is celebrating its 75th anniversary by purchasing gift cards to support the local restaurants impacted by the pandemic this past year, and they are asking for nominations from the community. Tell them which restaurant(s) to support and why at loom.ly/WtWp2Yg.
Commercial real estate investment opportunity: Jeanne and Chip Allen of Valley of the Moon Investments offer accredited investors the ability to invest in real estate alongside them, by syndicating large-scale apartment complexes that they buy, renovate, operate and sell in typically five years. Their focus is on investments in Texas because of its strong population and job growth. They recently closed on a 60-unit townhome complex in Fort Worth, and are looking for the next opportunity in the Dallas area. To find out more email invest@valleyofthemooninvestments.com.
For lease: The former site of the Kovacs Motors used car lot at 19190 Sonoma Highway is now for lease. There is 2,875 square feet of retail space available. The two-story building includes a large showroom, several office spaces, two automotive service bays and off-street parking. Jeff Lokey of Compass is the agent.
Cheap flights: Avelo Airlines now is offering flights between Burbank and Sonoma County Airport, becoming the Santa Rosa airport's fourth commercial air carrier. Avelo currently is selling tickets starting at $19, and many of the flights are no more than $39. The airline is not charging fees for changing tickets or making reservations at its call center rather than online. aveloair.com.
Expensive flights: Areo is offering flights from the Napa airport to Van Nuys in Los Angeles for $2,000 round-trip. Aero bills itself as a semi-private (16-seat) first-class airline with white-glove service, including luxury chocolates and high-end wines. The Napa route began April 23 and became Aero's second destination in its domestic launch, which began with flights to Aspen and will soon include Van Nuys to Jackson Hole, Sun Valley and Cabo San Lucas. aero.com.
St. Francis news: The newest wine experience at St. Francis Winery & Vineyards is the Tour de St. Francis, a roving wine tasting and vineyard tour aboard a 100-percent sustainable, pedal-powered "Tasting Trolley." stfranciswinery.com/experiences/#tour.
Microloans: La Luz Center has made 32 microloans totaling $807,500 with another three loans in the pipeline. Its investments have supported 29 businesses ranging from auto shops, restaurants/food service, contracting and building to landscaping and domestic services creating over 150 jobs. The microloan program offers support in drafting a business plan and outlining the loan process. Learn more at laluzcenter.org/economic-advancement.
Linked in: Songwriter Cliff Goldmacher has a dozen courses available at LinkedInLearning.com. LinkedIn Learning provides access to over 16,000 expert-led courses. Participants earn a certificate when you complete a course. His courses include "The 20 Unofficial Rules of Songwriting," "Write, Think and Act like a Professional Songwriter," "The Do's and Dont's of Songwriting Collaboration" and more. cliffgoldmacher.com/about/learn.
Open: The Fig Café is back open for indoor dining from 5 to 9 p.m. Wednesday through Sunday. Seating is limited and they are not currently taking reservations.
Award: Congratulations to Nhi Duong from the Sonoma Valley Hospital operating room who has received the hospital's Daisy Award for her kindness and professional, knowledgeable attitude and her willing to step up whenever she is needed before you get the chance to ask her.
Storage: The giant, new Vineburg Wine & Self Storage at 1010 Napa Road, at the corner of Eighth St. E. is almost open and currently taking reservations. The 65,000-square-foot facility includes self services and full climate control units as well as cask storage, and is scheduled to open in June. totalstoragesolutions.com.
Contact Lorna at lorna.sheridan@sonomanews.com.