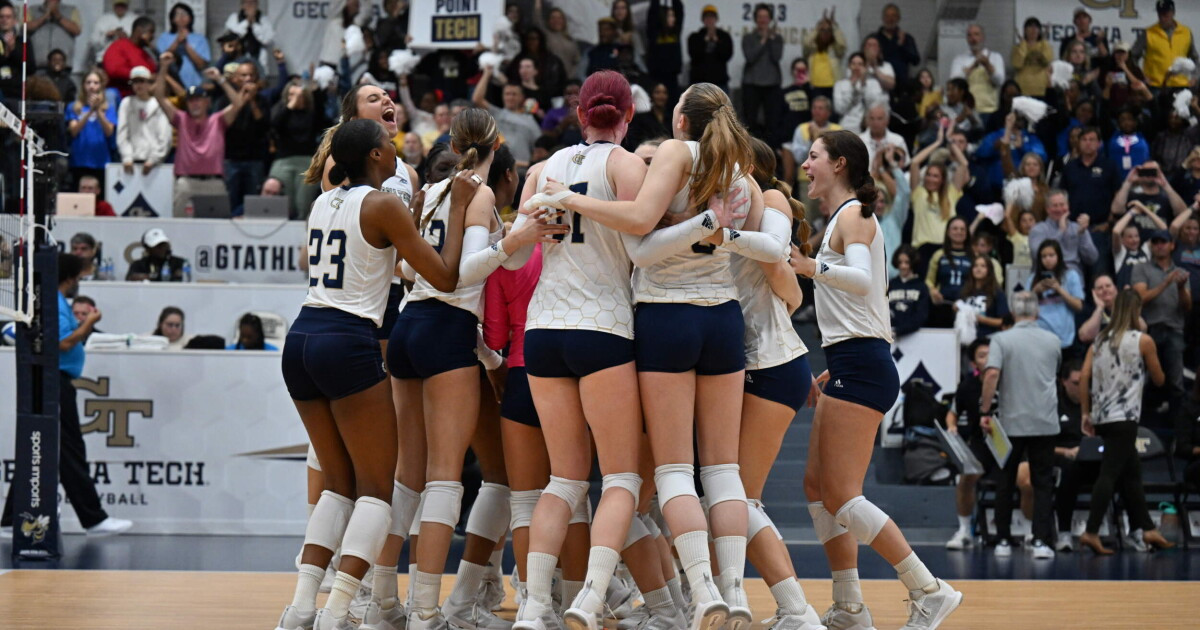 THE FLATS — No. 10 Georgia Tech blew by Boston College, 3-0 (25-19, 25-13, 25-18), for its 11th sweep of the year on Friday night in O'Keefe Gymnasium. The Yellow Jackets' defense shut down the Eagles for their sixth ACC sweep this season, forcing an empty hitting percentage (.000) thanks in large part to a season-high 14 total blocks on the way to the dominant victory.
Senior outside hitter Julia Bergmann highlighted the night, becoming one of nine Yellow Jackets in program history to eclipse 1,500 career kills. The vaunted attacker tallied 18 kills, 10 digs, five blocks and two aces in her stellar outing, resulting in her seventh double double on the year.
In a night where Tech's defensive prowess outshined its offensive firepower, four different Jackets were in on at least five blocks while another five picked up at least five digs. Senior middle blocker Erin Moss headlined the group with a career-high nine total blocks (three solo, six assisted) while her partner inside, middle blocker Breland Morrissette, complemented her with five block assists of her own. Rounding out the five block assist club on the night was Bergmann along with junior right side hitter Tamara Otene.
Morrissette was the most efficient attacker for the White and Gold, coming away with six kills at a .455 clip while Otene matched her six kills and added seven digs. Senior libero Paola Pimentel led the unit with 11 digs, and junior setter Bella D'Amico ran the point with 25 assists and six digs of her own.
Overall, Georgia Tech (14-4, 7-2 ACC) maintained control across the board over Boston College (14-9, 2-7 ACC), leading the way in kills (38-22), assists (35-18), aces (10-4), digs (48-29) and blocks (14-9).
How it Happened
The Yellow Jackets got off to a hot start in the first set, picking up six straight points behind four consecutive aces lined up by Morrissette. The Eagles would even things up at 10 apiece and work their way into the lead at 16-14, but Tech went on a five-point run in response to swing back ahead, 19-16. The White and Gold hung onto the lead from there, going onto take the final five points of the set for an emphatic finish by way of back-to-back Bergmann kills, resulting in a 25-19 set one win.
Georgia Tech capitalized on its momentum going into the second set, running away with it early by leaping ahead, 15-2. A stretch of seven Jacket points in eight opportunities thereafter would put the match further out of reach for a 24-8 Tech lead before the White and Gold closed out set two on top, 25-13.
Boston College remained competitive in the third set as neither side created separation of more than one point until the Eagles slipped in front, 10-8. Boston College clung to its narrow lead until Georgia Tech use a three-point streak to even the tally at 14 all. The Yellow Jackets regained the lead soon after on back-to-back points for a 16-15 advantage, managing to stay in front for the remainder of the set. Tech won nine of the next 11 points to put an exclamation point on its victory as Morrissette turned in back-to-back kills for a 25-18 triumph in set three and a match sweep for the Jackets.
Up Next
Georgia Tech will wrap up the weekend against Syracuse (10-9, 6-3 ACC) on Sunday at 1 p.m. in O'Keefe Gymnasium. The contest will be broadcast on ACC Network Extra.
Alexander-Tharpe Fund
The Alexander-Tharpe Fund is the fundraising arm of Georgia Tech athletics, providing scholarship, operations and facilities support for Georgia Tech's 400-plus student-athletes. Be a part of developing Georgia Tech's Everyday Champions and helping the Yellow Jackets compete for championships at the highest levels of college athletics by supporting the Annual Athletic Scholarship Fund, which directly provides scholarships for Georgia Tech student-athletes. To learn more about supporting the Yellow Jackets, visit atfund.org.   
For the latest information on the Georgia Tech Yellow Jackets, follow us on Instagram (@GTVolleyball), Twitter (@GTVolleyball), Facebook (Georgia  Tech Volleyball) or visit us at www.ramblinwreck.com.
>>> ad: Don't Miss Today's BEST Amazon Deals!
Originally Appeared Here