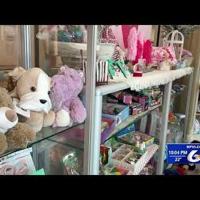 A local gift shop is sharing its profits with the community…
The Cloud 9 gift shop located inside Portneuf Medical Center is all volunteer-run.
Being in the hospital or visiting someone in the hospital isn't always a happy experience.
For the Cloud 9 Gift Shop inside Portneuf Medical Center, their goal is to make someone's day with a small gift.
"This gift shop is a really fun place for people to come to take a minute in a really stressful environment, whether it be patrons to the hospital, or employees also that has a really stressful job, they get to come in here and just relax for a few minutes and we try to provide an environment that is calming and peaceful and also friendly," said Ticia Anderson, a volunteer at the Cloud 9 Gift Shop.
The gift shop gets most of their items from local vendors, and most of their items are seasonal.
The Cloud 9 gift shop donates all money earned to the community.
It goes to things like the trailer park at the hospital…helping families who have patients staying long term…providing bird feeders to hang outside the chemotherapy center so sick patients can watch… and even donating winter coats to the local fire stations.
The money also helps support Idaho State University students who are employed at the hospital by granting scholarships. Any Idaho State University student who is in the medical field can apply.
"As a board of auxiliary we sit and decide where the money is going to go every month and whether we have requests or concerns of where the money should go that's what we discuss and decide and we all agree on it. And it is really just to give back to the community," said Anderson.
Not only does the gift shop comfort people in the hospital, it also brings a smile to the faces of the volunteers.
"I love to see the employees and customers and just trying to make somebody's day a little bit brighter. People order flowers and we get to take them to them or just talking to the employees when they are having a stressful day, they come in and chat and just being around these wonderful ladies that are volunteers and they are such great examples to me and the community with what you can do with your time," said Anderson.
To apply to volunteer at Cloud 9 you can visit the gift shop and talk with a volunteer.
>>> ad: Don't Miss Today's BEST Amazon Deals!
Originally Appeared Here