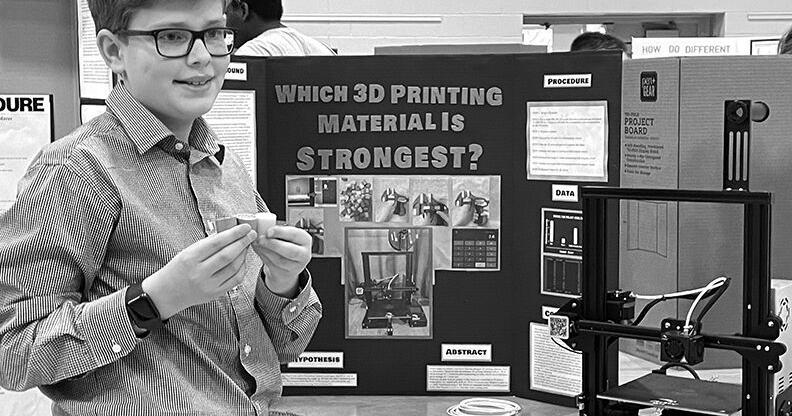 There are just over 400 eighth-graders at Solon Middle School this year. On Dec. 7, 149 of them were professionally dressed, anxious but eager to share their science fair projects with the fair's judges, school staff members and their fellow scientific-minded students.
The science fair is a popular event in Solon, with so many students participating that the presentation booths almost fill the school gym. There are so many interesting hypotheses, well-planned experiments and awesome presentations that it takes 50 judges just to review all of them.
Eighth-grade student Emily Pawlicki had a presentation about how the yeast fermentation of fruit juice could be made into a potential biofuel.
"I like to bake, so I use yeast a lot. But I took that one step further to see how its fermentation with fruit juice could then be a viable biofuel. Because that would help the environment," she said matter-of-factly.
Another student, Iara Gonzalez Valderrey, had a project on temperature's effect on capillarity. What's capillarity? she was asked.
"It is the tendency of a liquid to rise or fall as a result of surface tension. It's one of the few forces that is powerful enough to defy gravity." Iara said she was intrigued about capillarity, so she designed her science-fair project to learn more.
Zach Krivis said his interest in using a 3D printer inspired his science-fair project.
"I wanted to find which material was the strongest in a 3D printer, PLA, PLA plus, resin or wood-infused PLA," he explained. In the end, it was the PLA plus that prevailed, he said, explaining how he measured the size of his material samples before and after he squeezed them in a vice.
Zach then recalled how he was missing a game piece once to his board game and used the resin to create a new piece for the game on his 3D printer. "I found the piece online, scaled it and printed it on the 3D printer, making my game usable again," he said proudly.
Another proud person at the fair was Solon eighth-grade science teacher Allison Gale.
"I am really proud of the work these students have done," said Ms. Gale, who leads the science-fair team. "They have to write scientifically, form a hypothesis, test it, form conclusions and then present it. They do much of this work outside of class, although we are all here to guide them, and they just come up with such outstanding projects."
To her credit, and that of the school's science department, each of the students who were asked about their projects said science was one of their favorite subjects at the middle school.
One such student, Ivy Squire, used a "material" close to her heart for her science-fair project. She was testing the effects of different solutions on Skittles.
"Well, I actually love Skittles," she said with a laugh. "But look at the results of the different liquids. I did not expect that hot water would dissolve the color of the Skittles the most. I tried Coke, coffee and vinegar, and it was actually the hot water that took the color all the way off," she said enthusiastically.
Ms. Gale said she finds that, when students choose their own topics, they tend to be more excited about exploring their ideas and results. "This is an opportunity for the student to study what they want to study, a chance to see if their hypotheses are true. It is really a time for them to become scientists," she said.
And for these 149 students, it's a chance to share what they have learned with not only their peers but with the larger scientific community.
Judging for the Solon Middle School Science Fair took place on Dec. 7, and the results will be tabulated over the next few weeks.
>>> ad: Don't Miss Today's BEST Amazon Deals!
Originally Appeared Here