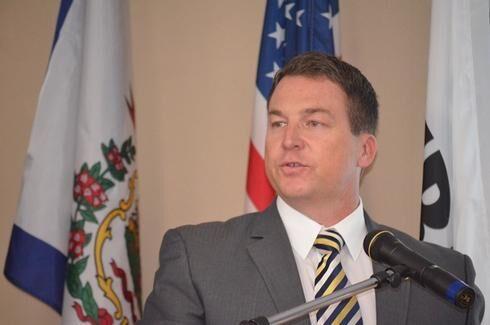 BRIDGEPORT — It's been a busy summer at North Central West Virginia Airport, according to Director Rick Rock.
The airport served more than 5,800 passengers in June and more than 6,300 passengers in July, according to Rock.
"We've certainly seen a lot of pent-up demand come forth this summer," he said. "People were anxious to get out, see the world and go to some good ole vacation destinations."
Back in April 2020, just after the onset of the COVID-19 pandemic, Rock reported the airport had seen a passenger decline of around 90%.
"We were at 6,600 people enplaned for the first three months of the year. Now we've had 21 people for the month (of April). It's a dramatic drop," he said at the time.
The airport had around 2,000 passengers per month through February of this year, which Rock estimated was about half the number of passengers the airport would have had prior to the pandemic.
Part of the airport's summer passenger uptick can be attributed to the recent additions to its flight offerings, Rock said.
"We had five days of Myrtle Beach (flights) and we added Destin (Florida), to our schedule," he said. "More flights means more people."
During their June meeting, members of the Benedum Airport Authority, the airport's governing body, approved a $9.275 million budget for Fiscal Year 2021-22.
The budget is largely unchanged compared to last year's, Rock said.
"Our budgets are based on historical data, and the main driver of our budgets is the amount of fuel that we sell," he said. "Prior to COVID-19, we were at about 1.1 million gallons of fuel. Over the last 12 to 18 months, we've been somewhere around 850,000 gallons. And this budget represents [an estimate] of 900,000 gallons of fuel being sold."
The airport expects to receive approximately $200,000 in federal grant funding over the next fiscal year, which will be used to fund various ongoing projects, Rock said.
The airport has around $6 million in cash on hand and remains in good financial shape, Rock said.
"We are trying to be very prudent with our expenses," he said. "The whole goal for us is a sustainable budget."
The budget reflects the airport's continued process of recovering from the impact of the pandemic, Rock said.
"We were very, very conservative last year when we didn't know where we were going to go," he said. "We feel more comfortable this year. Everything is a work in progress, but between continued investment and the continued growing of flights, we feel comfortable in being able to achieve our goals."
Meanwhile, there are two major projects underway on the airport's property, Rock said.
"The new Mitsubishi hangars are underway — we're in the prep stages more than anything else. We're waiting to get everything done that we need to so we can roll into the heavy work," he said. "Then moving the dirt for the new terminal is actively going on."
A third project, construction of a new building that will be part of the Benedum Logistics Park, is set to start soon, Rock said.
"That's a $1 million building that we'll be doing for that," he said. "We're really excited about that."
The Mitsubishi Heavy Industries Regional Jets (MHIRJ) project will see two new hangars covering more than 100,000 square feet constructed adjacent to the company's existing facilities at the airport.
The $19.1 million project could bring as many as 800 new jobs to the area, according to company officials.
"It truly positions the North Central West Virginia Airport as paramount in the regional aviation infrastructure," said Anthony Hinton, head of service centers for MHIRJ, during a groundbreaking ceremony for the project in June.
MHIRJ's expansion dates back more than a decade, Rock said.
"It's been a long road and journey, and a lot of people didn't think this would ever occur," he said. "It's wonderful — and a wonderful thing for West Virginia. It means so much for this airport, but really to all of West Virginia. As we attempt to diversify our economy, this is a major first step for what we're trying do and the part that we play."
The "dirt moving" project currently underway involves leveling a mound of approximately 3 million square feet of earth to create development-ready space for construction of the airport's new terminal building.
"Within 12 to 18 months, you'll probably see our groundbreaking for the new terminal," Rock said. "Right now, we're getting the design done; 12 to 18 months from now, we'll be beginning to build; then another 18 to 24 months after that, we'll be doing a ribbon cutting."
Senior Staff Writer Charles Young can be reached at 304-626-1447 or cyoung@theet.com
>>> ad: Don't Miss Today's BEST Amazon Deals!
Originally Appeared Here